Fire Emblem Warriors: Three Hopes - The Loop
Play Sound
Millstones are blocks used to "grind" certain items, such as stone to cobblestone, or cobblestone to gravel. To function, the millstone must be powered. When powered, it emits smoke particles every few seconds.
Crafting
[
]
The millstone is crafted using seven cobblestone, a stick, and an iron ingot.
Usage
[
]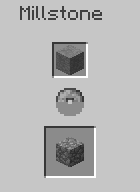 To use a millstone, you must right-click on it to open its GUI. Then, you must put the item or block you want to grind into the top slot of the GUI. Once you have done that, you need to leave the GUI and power the millstone with a redstone signal. The Millstone will start to turn, and soon your item(s) will be ground. If the millstone loses power while grinding an item, all progress towards grinding that item must be restarted.
Automation
[
]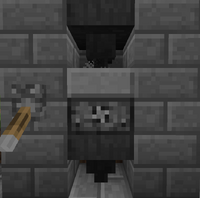 Working the millstone with hoppers is somehow tricky: As the hoppers have to be adjacent to the millstone, they get powered by it, as long as the millstone is powered directly, and therefore will lock. To avoid this, just put a block besides the millstone and power this block.
The example to the left shows the hoppers and the millstone set into a wall, which is powered by a lever. It wouldn't work if you put the lever directly on the millstone by shift-clicking.