"
Mithril! All folk desire it. It could be beaten like copper, and polished like glass; and the Dwarves could make of it a metal, light and yet harder than tempered steel. Its beauty was like to that of common silver, but the beauty of Mithril did not tarnish or grow dim.
"

–Gandalf in The Fellowship of the Ring, A Journey in the Dark

A Mithril nugget is equivalent to one-ninth of a Mithril ingot, from which it may be crafted.
One Mithril ingot can be split up into nine nuggets by placing it on a vanilla crafting table.
Also, it's possible to combine 9 nuggets into one ingot.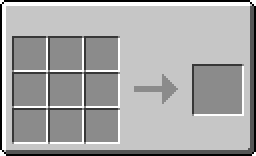 In addition to being crafted from ingots, Mithril nuggets can be found as very rare loot from treasure chests in structures such as Elven ruins, Dunedain towers, barrows, ancient fortresses of Harad and rich Hobbit holes. As of Public Beta 23 Mithril nuggets cannot be purchased, but miners, several Utumno mobs: the Balrog, the Utumno Orc and the Tormented Elf, and mystery webs will drop this on rare occasion. As of Public Beta 24, they can also be obtained by putting a Mithril ring into a Unsmeltery.
It can be used to craft a Mithril ring, which currently has no use, and is also in brewing Dwarven tonic. You may also use it to craft a fine magical smoking pipe or to make trimmed Dwarven armour.
Mithril nuggets are bought by Wood-elf, Galadhrim and Lindon Smiths.

Apple •

Athelas •

Banana •

Bone •

Cactus •

Carrot


Cherry •

Corn •

Date •

Dirt •
Dwarfwort •

Elanor •

Grapes


Lemon •

Lime •

Mallorn Nut •
Maple Syrup •

Melon •

Niphredil


Milk •

Mithril Nugget •

Morgul-shroom •

Morgul-flowers •
Pear


Plum •

Pomegranate •

Potato •

Rhino Horn •
Rotten Flesh


Sugar •

Sugar Cane •

Termite •

Wheat
Community content is available under
CC-BY-SA
unless otherwise noted.