The Mithril ring is an item which, despite having no current use, can be crafted in survival mode. It is, however, nearly useless, so it isn't recommended to waste Mithril on this item unless for decorative or role-playing purposes. The recipe will probably be changed when the ring forging system is introduced. It can be unsmelted into a few Mithril nuggets, if you are lucky.
The Mithril ring is crafted from eight nuggets arranged in the pattern below. It is exactly the same recipe as for the other rings except using Mithril. Instead of crafting, it can be also found in ruins.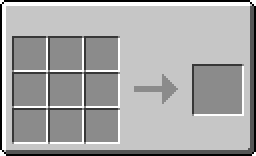 The Elven ring Nenya is made of mithril and is set with a stone of adamant.
Community content is available under
CC-BY-SA
unless otherwise noted.