Raise a Floppa - The Loop
Play Sound
Morgul-shrooms are edible mushrooms found in Mordor.
They restore 4 (

) hunger points when eaten and can be used to brew Orc draught. Eating a Morgul-shroom for the first time will grant the player the achievement Survivalist.
Eating Morgul-shrooms will poison players with negative alignment with Mordor.
Obtaining
[
]
Morgul-shrooms cannot be found in the wild, which suggests they might have been specially bred by the servants of Sauron. They can be found most commonly in the farms of Mordor Orc Camps, where they appear in groups of eight. They can also be acquired through trade with a Coast Southron or Umbar Florist.
In the renewed version only, there is also a small chance that a Morgul-shroom will grow if bone meal is used on Mordor rock, dirt or gravel.
Uses
[
]
Morgul-shrooms can be eaten to restore 4 (

). They provide decent saturation, and can thus prove useful as a food source for evil players, though those with negative Mordor alignment will be poisoned by eating them.
Mordor Orc Traders will sometimes buy Morgul-shrooms. They are also a crucial ingredient when brewing Orc draught, as seen below.
Farming
[
]
Morgul-shrooms can be farmed, much like vanilla mushrooms. When a mushroom is placed on Mordor rock in any biome with water nearby, over time the mushrooms will multiply and spread. Morgul-shrooms, like vanilla mushrooms, will only spread in dark areas.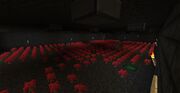 Food of Middle-earth
Breads:

Banana Bread •
Bread •
Corn Bread


Cram •

Lembas •

Maggoty Bread •

Olive Bread
Cakes:

Banana Cake •

Cake (The Lie) •

Lemon Cake
Pastry:

Apple Crumble •

Berry Pie •

Cherry Pie •
Dalish Pastry


Hobbit Pancake •

Marchpane •

Mushroom Pie •

Pumpkin Pie
Fruits:

Almond •

Apple •
Banana •
Berries •
Cherry •
Date •

Grapes

Lemon •

Lime •
Mango •
Melon •

Olives •
Orange •
Pear •
Plum •

Pomegranate
Meats:

Beef/Steak •

Camel Meat •

Chicken •

Gammon •

Kebab •
Lion Meat


Man-flesh •

Mutton •

Porkchop •

Rabbit Meat •

Rhino Meat

Rotten Flesh •

Suspicious Meat •
Venison •

Zebra Meat
Nuts:

Mallorn Nut •
Roast Chestnut
Soups:

Leek Soup •
Melon Soup •
Mushroom Stew •

Rabbit Stew •

Torog Stew
Vegetables:
Carrot •

Corn •
Leek •
Lettuce •

Morgul-shroom


Mushroom •

Potato •

Turnip •
Wheat •
Yam
Other:

Egg •

Fish •

Maple Syrup •

Raisins •
Salt •

Sugar Lump (removed)


Apple •

Athelas •
Banana •

Bone •

Cactus •
Carrot

Cherry •

Corn •
Date •

Dirt •

Dwarfwort •

Elanor •

Grapes

Lemon •

Lime •

Mallorn Nut •

Maple Syrup •
Melon •

Niphredil


Milk •

Mithril Nugget •

Morgul-shroom •

Morgul-flowers •
Pear

Plum •

Pomegranate •

Potato •
Rhino Horn •
Rotten Flesh


Sugar •

Sugar Cane •
Termite •
Wheat