GTA: The Criminal Enterprises - The Loop
Play Sound
"
Among them, nodding on slender stalks, were other flowers, white and palest green; they glimmered as a mist amid the rich hue of the grass.
"

–The Fellowship of the Ring, Lothlórien

Niphredil is a white flower that first grew during fair Lúthien's birth. They can be found in Lothlórien and bought from a Galadhrim trader.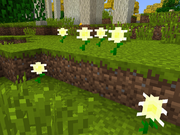 Uses
[
]
Niphredil flowers can be crafted into white dye, used to brew Miruvor, and used to create Elven portals. Of course, they may also be used for decoration.
Trivia
[
]
In Public Beta 29, the texture of Niphredil was changed to give it a more elegant appearance.  
The One Wiki to Rule Them All has an article on:
Asphodel •

Athelas •

Black Iris •

Bluebell •

Chrysanthemum


Dwarfwort •

Elanor •

Flame of Harad •

Harad Daisy •

Hibiscus

Lavender •
Mallos •

Marigold •

Morgul-flowers •

Niphredil •

Sand Gem


Shire Heather •

Simbelmynë •

Southbell •

Thistle •

Yellow Iris

Elfsong •
Fangorn's Beard •

Huorn Leaf •

Moonflower

Riverweed •

Sunfruit •

Tears of Yavanna

Apple •

Athelas •
Banana •

Bone •

Cactus •
Carrot

Cherry •

Corn •
Date •

Dirt •

Dwarfwort •

Elanor •

Grapes

Lemon •

Lime •

Mallorn Nut •

Maple Syrup •
Melon •

Niphredil


Milk •

Mithril Nugget •

Morgul-shroom •

Morgul-flowers •
Pear

Plum •

Pomegranate •

Potato •
Rhino Horn •
Rotten Flesh


Sugar •

Sugar Cane •
Termite •
Wheat