Roblox: DeepWoken - The Loop
Play Sound

Nitre (formerly: Saltpeter) is a fairly common mineral that can be acquired by mining nitre ore, which is found underground or can be bought from Dwarf miners and Blue Mountains miners for 5-7 silver coins.
Recognition
[
]
Upon first glance, the four ores shown below visually look very similar. However, each has its distinct qualities if you look carefully.
Nitre has the second biggest patches of the four. The patches are of a very light grey color.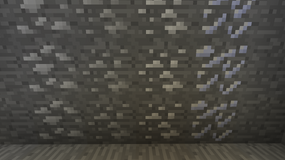 Crafting
[
]
If combined with sulfur and charcoal (normal coal will not work) on a vanilla crafting table or on the inventory crafting grid, it produces two gunpowder. This is the only way you can obtain gunpowder in Middle-earth to make things such as Orc bombs and TNT.
Nitre can also be used to make two bonemeal by placing it on a vanilla crafting table together with dirt.
Trivia
[
]
In real life, nitre was occasionally extracted from ore, but most of it was extracted from bat guano.
Chemically, it's known as potassium nitrate, KNO3