Orc beds act like vanilla beds and can be used by everyone, even players who have negative alignment with any Orc factions. They spawn in the staff room of the newly designed pits.
Note that player respawning is changed by the Mod. Follow the link for more details.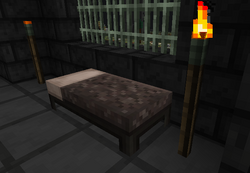 Crafting Edit
It is crafted like a regular bed in any of the Orkish crafting tables and the Half-troll crafting table.