Orc Skull Staffs are weapons carried by various Orc commanders. It deals +6.5 damage and relative knockback. Speed and reach are equal to the sword (100%). This is a good starting weapon for evil aligned players, as it is cheap to craft and deals decent damage, as well as striking fear into the hearts of the enemies with its spooky appearance.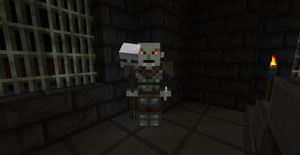 From Public Beta 6 through 19 this staff was wielded by all Orc unit hiring captains, but was not actually available as an item, being a visual model only.
The skull staff may be crafted using two sticks and a skull, on any Orcish crafting table. They can be reforged using skulls.
Melee:

Axes •

Battleaxes •

Daggers •

Hammers

Maces •
Orc Skull Staffs •

Rolling Pins •

Swords
Polearms:

Battlestaves •
Halberds •

Lances •

Longspears


Pikes •

Spears •

Tridents •

Warscythes
Ranged:

Blowguns •

Bows •

Crossbows •

Slings
Throwing:

Conkers •

Fire-pots •

Plates •

Spears •

Termites •

Throwing Axes
Miscellaneous:

Balrog Whips •

Khamûl's Fire •

Mace of Sauron


Orc Bombs •

Staff of Gandalf the White