Sunfruit is a plant found exclusively in the Fangorn forest biome. Sunfruit is a small plant that occupies a single block. It is used to create red Ent Draught, which gives Fire Resistance for a short time.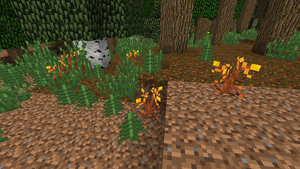 The plant is renewable as it will occasionally grow when bonemeal is used in Fangorn.
Some might call it a waste, but this flower can also be used in a regular crafting table or the player's inventory to create orange dye, alike to other mod flowers.
Asphodel •

Athelas •

Black Iris •

Bluebell •

Chrysanthemum


Dwarfwort •

Elanor •

Flame of Harad •

Harad Daisy •

Hibiscus

Lavender •
Mallos •

Marigold •

Morgul-flowers •

Niphredil •

Sand Gem


Shire Heather •

Simbelmynë •

Southbell •

Thistle •

Yellow Iris

Elfsong •
Fangorn's Beard •

Huorn Leaf •

Moonflower

Riverweed •

Sunfruit •

Tears of Yavanna
Non-alcoholic:

Apple Juice •

Berry Juices •

Chocolate •

Grape Juice


Lemonade •
Mango Juice •

Milk •

Orange Juice •

Pomegranate Juice •

Water
Alcoholic:

Ale •

Arak •

Banana Beer •

Cactus Liqueur •

Carrot Wine •

Cherry Liqueur


Cider •

Corn Liquor •

Dwarven Ale •

Lemon Liqueur •

Lime Liqueur •

Maple Beer


Mead •

Melon Liqueur •

Perry •

Plum Kvass •
Pomegranate Wine •

Red Wine

Rum •

Soured Milk •
Termite Tequila •

Vodka •

White Wine
Magical:

Athelas Brew •

Dwarven Tonic •

Jungle Remedy •
Miruvor


Morgul-draught •

Orc Draught •

Poison •
Taurethrim Cocoa •

Torog Draught


Ent-draughts: Elfsong • Fangorn's Beard • Huorn Leaf
Moonflower • Riverweed • Sunfruit • Tears of Yavanna