The Taurethrim crafting table is the table used by the mighty Taurethrim of the jungles of Far Harad. It is used to craft all the Taurethrim crafting recipes and is found within most Taurethrim structures.
It can be crafted by using two wood planks of any kind and two Taurethrim bricks on a Taurethrim crafting table.
In addition, the player must have at least +1 Taurethrim alignment to use this crafting table. Otherwise, right-clicking on the crafting table will only emit a puff of smoke.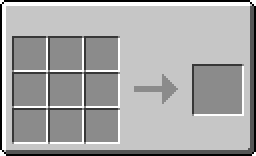 Upon crafting an item from a Taurethrim crafting table, the player earns the achievement "Taurethrim Crafter".
Since Public Beta 33 they can also be bought for 75-125 (


to



) from a smith.

The Taurethrim of Far Harad

NPCs: Taurethrim (Banner Bearer, Blowgunner, Farmhand, Warrior)
Traders: Chieftain • Farmer • Shaman • Smith
Items:

Amulet • Armour •

Blowgun •

Cocoa •

Dart


Equipment •

Remedy •

Shard •

Torch
Blocks: Brick • Crafting Table • Gravel
Structures: Pyramid • Village
Community content is available under
CC-BY-SA
unless otherwise noted.