GTA: The Criminal Enterprises - The Loop
Play Sound
Taurethrim Dart Traps are player-activated traps that resemble vanilla dispensers, but are fully automatic, and do not require redstone to run. They were first created by the ancient Taurethrim of the jungle, then placed into the Taurethrim Pyramid, to kill adventurers and looters.
They have 9 inventory slots that can each hold up to a stack of Taurethrim darts. They can happily fire at anything or anyone that ventures into their line of sight, which is 16 blocks on level ground, as long as they have darts left to shoot. They shoot at a fairly fast rate, making them fairly effective, especially in groups.
In dark areas of the stone Taurethrim Pyramid, they are quite difficult to see, especially when hidden behind vines. As one pyramid can contain over a full stack's worth of dart traps, each loaded with darts, they can prove a decently formidable hazard for those traversing the third level of the maze.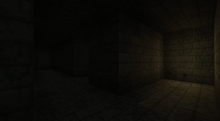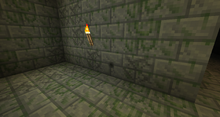 Crafting
[
]
To construct a Taurethrim dart trap, one first needs a Taurethrim crafting table, as the Taurethrim were the first to use them. It requires 8 Taurethrim brick, and one Taurethrim blowgun, crafted in a pattern similar to that of a dispenser, as shown below: