Fire Emblem Warriors: Three Hopes - The Loop
Play Sound
Tol Rhúnaer is the name given to the island in the Sea of Rhûn. This island is uninhabited and forested, and features occasional trees in what's mostly a mix of light forest and scrubland.
Tol Rhúnaer is technically a sub-biome of Rhúdel, while Eryn Rhúnaer, the forest sub-biome found deeper into the island, is a sub-biome of the Eryn Garan.
Entering the island for the first time, earns you the achievement "The Isle in the Sea".
Sub-biomes
[
]
Eryn Rhúnaer
[
]
Eryn Rhúnaer is a sub-biome very similar to the Eryn Garan, found in the middle of the island. Eryn Rhúnaer is a forest of mostly redwood trees, and is far denser than what is found on the more coastal parts of Tol Rhúnaer. The forest of Eryn Garan has greenish fog like Fangorn.
Variants
[
]
Tol Rhúnaer
[
]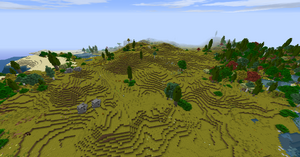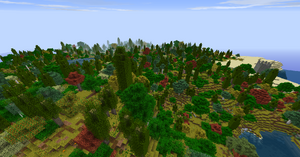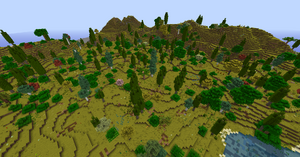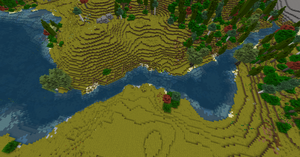 Eryn Rhúnaer
[
]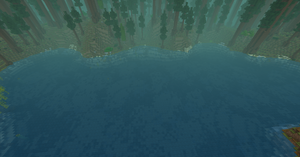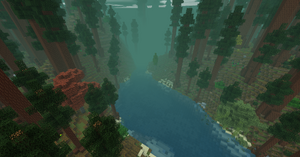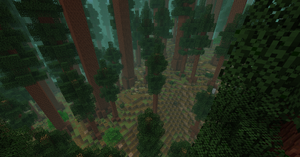 No structures generate here, as this island was likely uninhabited.
Mobs
[
]
The island is home to no NPCs (except the occasional Bandit) but several animals (horses, Kine of Araw and bears as well as the temperate regular animals) can spawn. In Eryn Rhúnaer, wolves can also spawn and bears and deer are more common.
Vegetation
[
]
The forests here are similar to Eryn Rhúnaer and Eryn Garan, but are considerably less dense. A greater amount of shrubs and plants grow here, alongside scattered trees in what can be classified as a light forest.
List by Alphabet
A-C:

Adornland • Anduin Hills (Gladden Fields, Vales of Anduin) • Angmar (Mountains) • Barrow-downs
Blue Mountains (Foothills) • Bree-land (Chetwood) • Brown Lands • Coldfells

D-E:

Dagorlad • Dale • Dead Marshes • Dor-en-Ernil (Hills) • Dorwinion (Emyn Winion)
Drúwaith Iaur • Dunland • East Bight • Emyn Muil • Enedwaith • Erebor • Eregion
Eriador (Downs, Eryn Vorn, Minhiriath, Swanfleet) • Ettenmoors

F:

Fangorn (Clearing) • Fangorn Wasteland • Far Harad Bushland (Hills) • Far Harad Cloud Forest
Far Harad Grasslands (Arid, Arid Hills, Corsair Coasts, Forest) • Far Harad Jungle (Edge, Lake, Mountains, Taurethrim Clearing) • Far Harad Mangrove • Far Harad Swampland
Far Harad Volcano • Field of Celebrant • Forodwaith (Coastline, Mountains, Glacier)

G-K:

Gondor (Andrast, Blackroot Vale, Lamedon (Hills), Lebennin (Mouths of Anduin), Lossarnach (Imloth Melui), Mouths of Entwash, Pelargir, Pelennor Fields, Pinnath Gelin, White Mountains (Foothills))
Grey Mountains (Foothills) • Gulf of Harad (Gulf Forest) • Half-deserts • Harad Mountains • Harnennor
Harondor • Iron Hills • Ithilien (Hills, Wasteland) • Kanuka Forest

L-M:

Lake • Last Desert • Lindon (Coastline, Woodlands, Tower Hills) • Lone-lands (Angle, Weather Hills)
Lostladen • Lothlórien (Eaves) • Midgewater • Mirkwood (Dol Guldur, Mountains)
Misty Mountains (Foothills) • Mordor (Eastern Desolation, Gorgoroth, Mordor Mountains, Morgulduin, Morgul Vale, Nan Ungol, Nurn (Marshes, Sea of Nurnen), Udûn) • Mountains of the Wind (Foothills)

N-S:

Nan Curunír • Nindalf • Northern Mirkwood • Northlands (Northern Forests) • Old Forest
Perdorogwaith • Red Mountains (Foothills) • Rhúdel (Eryn Garan, Eryn Rhúnaer, Hills, Steppe
Tol Rhúnaer) • Rhûn (Forest) • Rivendell (Hills) • River • Rohan (Woodlands, The Wold, Uruk Highlands)
Southron Coasts (Harad Desert Riverbank, Near Harad Oasis, Southron Forests)

T-W:

Taur-i-Thorogrim • The Great Desert (Hills, Red Desert) • The Sea (Beach, Island, Meneltarma) • The Shire (Marshes, Moors, Woodlands, White Downs) • Tolfalas • Trollshaws
Umbar (Forest, Hills) • Utumno • Wilderland (Northern, Long Marshes) Woodland Realm (Hills)
List by Region
Eriador:

Angmar (Mountains) • Barrow-downs • Blue Mountains (Foothills) • Bree-land (Chetwood)
Coldfells • Dunland • Enedwaith • Eregion • Eriador (Downs, Eryn Vorn, Minhiriath, Swanfleet)
Ettenmoors • Lindon (Coastline, Woodlands, Tower Hills) • Lone-lands (Angle, Weather Hills)
Midgewater • Nan Curunír • Old Forest • Rivendell (Hills)
The Shire (Marshes, Moors, Woodlands, White Downs) • Trollshaws

---

Rhovanion:

Anduin Hills (Gladden Fields, Vales of Anduin) • Brown Lands • Dagorlad • Dale
Dead Marshes • East Bight • Emyn Muil • Erebor • Field of Celebrant • Fangorn (Clearing)
Fangorn Wasteland • Grey Mountains (Foothills) • Iron Hills • Lothlórien (Eaves)
Mirkwood (Dol Guldur, Mountains) • Misty Mountains (Foothills) • Nindalf • Northern Mirkwood
Wilderland (Northern, Long Marshes) • Woodland Realm (Hills)

---

The South:

Adornland • Dor-en-Ernil (Hills) • Drúwaith Iaur • Gondor (Andrast, Blackroot Vale, Lamedon (Hills), Lebennin (Mouths of Anduin), Lossarnach (Imloth Melui), Mouths of Entwash, Pelargir, Pelennor Fields, Pinnath Gelin, White Mountains (Foothills)) • Harondor • Ithilien (Hills, Wasteland)
Mordor (Eastern Desolation, Gorgoroth, Mordor Mountains, Morgulduin, Morgul Vale, Nan Ungol, Nurn (Marshes, Sea of Nurnen), Udûn) • Rohan (Woodlands, The Wold, Uruk Highlands) • Tolfalas

---

Harad:

Far Harad Bushland (Hills) • Far Harad Cloud Forest • Far Harad Grasslands (Arid, Arid Hills, Corsair Coasts, Forest) • Far Harad Jungle (Edge, Lake, Mountains, Taurethrim Clearing)
Far Harad Mangrove • Far Harad Swampland • Far Harad Volcano • Gulf of Harad (Gulf Forest)
Half-deserts • Harad Mountains • Harnennor • Kanuka Forest • Lostladen • Perdorogwaith
Southron Coasts (Harad Desert Riverbank, Near Harad Oasis, Southron Forests)
Taur-i-Thorogrim • The Great Desert (Hills, Red Desert) • Umbar (Forest, Hills)

---

Rhûn:

Dorwinion (Emyn Winion) • Last Desert • Mountains of the Wind (Foothills) • Red Mountains (Foothills) • Rhúdel (Eryn Garan, Eryn Rhúnaer, Hills, Steppe, Tol Rhúnaer) • Rhûn (Forest)

---

Forod:

Forodwaith (Coastline, Mountains, Glacier) • Northlands (Northern Forests) • Utumno

---

Belegaer:

The Sea (Beach, Island, Meneltarma)