You might also be searching for the normal Dwarven armour.
"
Royal indeed did Thorin look, clad in a coat of gold-plated rings, with a silver hafted axe in a belt crusted with scarlet stones.
"

–The Hobbit, Not at Home

Trimmed Dwarven armour is a collection of special Dwarven armour sets. Similarly to trimmed bricks, the player is able to trim their armour with silver, gold or Mithril nuggets.
These armour sets provide the same protection and durability as normal Dwarven armour; the trim is purely cosmetic. They are used by rich Dwarves, namely the commanders and banner bearers to show off their wealth, with the commanders wearing golden armour, and the banner bearers silver.
There is currently no equivalent for Blue Dwarven armour.
Like the normal Dwarven armour, equipping a full suit of trimmed armour will earn the player as well the achievement "A Tight Fit". This refers to it being too small for a human player. You can even use a mixture of differently trimmed and non-trimmed pieces.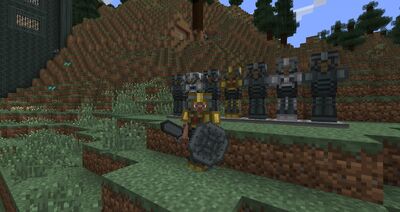 Trimming has to be done on a Dwarven crafting table with undamaged armour pieces as shown below. Click the blue marked [Expand] field to display.
Good:

Arnorian •
Blackroot Vale •
Blue Dwarven •

Dalish •

Dol Amroth •

Dorwinion (

Elven)


Dwarven (

Trimmed) •

Galadhrim •

Galvorn •

Gondolinian •

Gondorian


Ithilien Ranger •

Lamedon •

Lindon •

Lossarnach •

Pelargir •

Pinnath Gelin


Ranger •

Rivendell •

Rohirric (

Marshal) •

Taurethrim (

Gold) •

Wood-elven (

Scout)
Evil:

Angmar •

Black Númenórean •

Black Uruk •

Coast Southron •

Corsair


Dol Guldur •

Dunlending •

Gulfen •

Gundabad Uruk •
Half-troll •

Harnennor


Mordor •

Morwaith (

Chieftain) •
Morgul •

Nomad


Rhûnic (

Golden) •

Umbaric •

Uruk •

Utumno
Not Faction Specific:

Ancient •

Bone •

Bronze •

Fur •

Gemsbok Hide • Gold • Iron • Leather •
Mithril
Clothing Items:

Galadhrim Cloak •

Gambeson •

Harad Robes •

Kaftan •

Leather Hat •

Party Hat
Mount Armour:
Community content is available under
CC-BY-SA
unless otherwise noted.