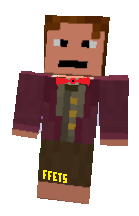 I like hobbits, so I play a hobbit on the server: "Ffets the Humble Hobbit." I also like collecting things, so I try to get every tree, each plant, every armor set, bed, banner, weapon, of course food (as a hobbit!) and so on. When you try this, you'll see how huge the mod already is.
I think quite systematically and try to make similar wiki pages (e.g. different workbenches) look quite similar. I try to complement lists and tables, because I hate it to search for things for an unnecessarily long time.
I am German, so not a native speaker, but I think my English is sufficiently good . I've had A-grade English lessons at school (Leistungskurs) and spend several holidays in England, Scotland and Ireland. Some words I've got to look up in the google translator, especially abbreviations or the spelling of more complicated words. Some expressions are quite difficult to understand when you don't live in an English speaking country. It took me over half an hour, to figure out, what "Ban the R-Word" means. I found a lot of articles, but no one repeated what that "R" stands for, because they wanted it to be banned. :-(
So, in short, when you notice some mistakes in my spelling or phrasing, just blame my Germanness for that and correct them - thank you in advance.
My favorite wiki pages are:
My favorite pages
[
]