White sand is a block that makes up the majority of the surface of white sand beaches.
White sand spawns in the white sand beach biome variant which appears in certain biomes, such as Dor-en-Ernil and Lindon.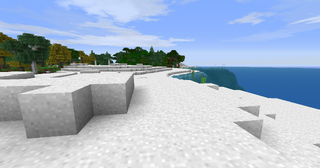 Like normal sand, white sand can be smelted in a forge to produce glass, or made into slabs:
In addition, four white sand can be put together in a
vanilla crafting table
or your personal 2x2 grid, to produce white
sandstone
, which in turn can be crafted into stairs, slabs or walls:
Aside from that, it's purpose is that of aesthetics.
Community content is available under
CC-BY-SA
unless otherwise noted.