Raise a Floppa - The Loop
Play Sound
Yam is a kind of food found in Far Harad. It is very similar to potatoes. Yams were added to the Mod in Public Beta 31.
Obtaining
[
]
Yams grow in patches in the savannah. They can also be found in the inventory of Morwaith dwellings.
Growing
[
]
As with potatoes and other seedless crops, yams can be grown by planting one on tilled soil. The growth process can be shortened by using bone meal on the growing yam.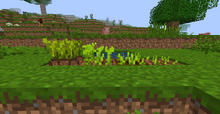 Uses
[
]
By baking yams in an oven, one obtains a roasted yam, that will restore 6 (

).
It is highly recommended to roast yams before eating, as they will induce hunger when eaten raw; even though it restores 1 (

), you might end up hungrier than you were before.
They make a good source of food for the Morwaith and everyone venturing into the far south of Middle-earth. You can sell your Roast Yams to a hungry Morwaith Huntsman for 2-3 coins each.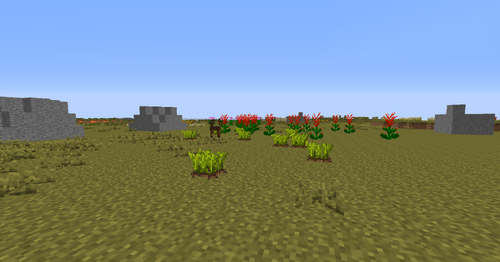 Food of Middle-earth
Breads:

Banana Bread •
Bread •
Corn Bread


Cram •

Lembas •

Maggoty Bread •

Olive Bread
Cakes:

Banana Cake •

Cake (The Lie) •

Lemon Cake
Pastry:

Apple Crumble •

Berry Pie •

Cherry Pie •
Dalish Pastry


Hobbit Pancake •

Marchpane •

Mushroom Pie •

Pumpkin Pie
Fruits:

Almond •

Apple •
Banana •
Berries •
Cherry •
Date •

Grapes

Lemon •

Lime •
Mango •
Melon •

Olives •
Orange •
Pear •
Plum •

Pomegranate
Meats:

Beef/Steak •

Camel Meat •

Chicken •

Gammon •

Kebab •
Lion Meat


Man-flesh •

Mutton •

Porkchop •

Rabbit Meat •

Rhino Meat

Rotten Flesh •

Suspicious Meat •
Venison •

Zebra Meat
Nuts:

Mallorn Nut •
Roast Chestnut
Soups:

Leek Soup •
Melon Soup •
Mushroom Stew •

Rabbit Stew •

Torog Stew
Vegetables:
Carrot •

Corn •
Leek •
Lettuce •

Morgul-shroom


Mushroom •

Potato •

Turnip •
Wheat •
Yam
Other:

Egg •

Fish •

Maple Syrup •

Raisins •
Salt •

Sugar Lump (removed)